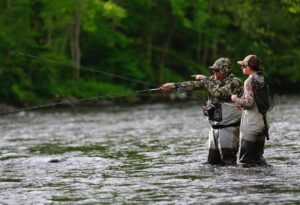 Jason Grieco Bio:
Jason is a native of Harwinton, CT. From a young age he has been a lover of the outdoors. He has been fishing the Farmington River with his father and uncle since he was 5 years old. He became interested in fly fishing in his teens, doing so on small ponds and streams around his house. At about 15 his father joined him with his new found passion for fly fishing and twenty some years later you will still find them both fishing the Farmington, Housatonic, Delaware and rivers all over the country together.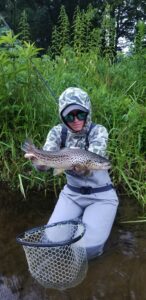 Jason attended Clarkson University in upstate NY and when not in class (which was often) was able to explore the Adirondack region and his love for the outdoors only grew. His skill level and thirst to learn also grew, spending countless hours and days on the water learning first hand from his experiences. To advance his skill level Jason began fishing rivers all around the country, taking lessons from the greats like Bob Jacklin in Montana, George Daniel and Domenick Swentosky in Pennsylvania, Ben Rinker in New York, and Zach St. Amand here in CT.
Over the past few years Jason has enjoyed teaching the new and experienced anglers the newest techniques used to catch more and better-quality fish on the Farmington & Housatonic Rivers right here at home. Spend a day with Jason and you will have fun while learning to be a better angler. Give him a call and he will tailor a day specific to your needs and interests.
2 Hour Evening $150 (1 Angler)
Half Day Lesson $250 (1 or 2 Anglers)
*For a trip tailored to your needs please reach out* **Catch and Release**
Jason will supply Rods, Reels and Flies. If you wish to use your own rod please bring it. What to Bring:
1) Waders
2) Wading boots, felt sole or studded
3) Valid CT Fishing License w/ Trout Stamp 4) Warm Clothes / Change of Clothes
5) Polarized Sunglasses
6) Hat
7) Sunscreen
8) Food and Drink
Contact Jason at 860-733-9872 or griecojm@gmail.com
On Instagram @FinsFeathersandFurCT